Italian Investment Counsellor
Dublin, Ireland
Overview
At Fisher, it's the people who drive our success and make our purpose possible. We have excellent opportunities for financial service professionals who want to grow a rewarding, long-term career at a firm where they can utilize their skills and reach their potential while helping our clients reach their goals.
Schedule: Full Time
Level: Professional
Travel: Minimal
Salary: Competitive
No Prospecting, No Cold-Calls, Book of Business Is Provided
Success Profile
At Fisher, our financial service professionals demonstrate the following traits, and all are equally important to their success.
Communicator
Competitive
Detail-Oriented
Multi-Tasker
Persuasive
Sincere
Culture
Our financial professionals focus on providing unparalleled service in an industry generally known for cookie-cutter solutions and impersonal relationships. We believe clients deserve better. Our team of financial professionals communicates Fisher's value proposition to high-net-worth investors and helps them reach their goals.
Are you interested in sharing your industry knowledge and serving as a liaison between a prospective client and the firm? Do you want to help us give people a better financial option? If you're interested in making a difference and working for a mission-driven business, Fisher Investments or one of its subsidiaries might be the best place to take your career to the next level.
Potential Career Path
The Investment Counselor role is one of many exciting professional-level opportunities. We believe in career mobility – where you start is just the beginning of a rewarding Fisher career. Whether you serve as an Investment Counselor for the long term, or decide to explore other groups and roles at the firm, you own your career journey. Where you go next at Fisher is up to you.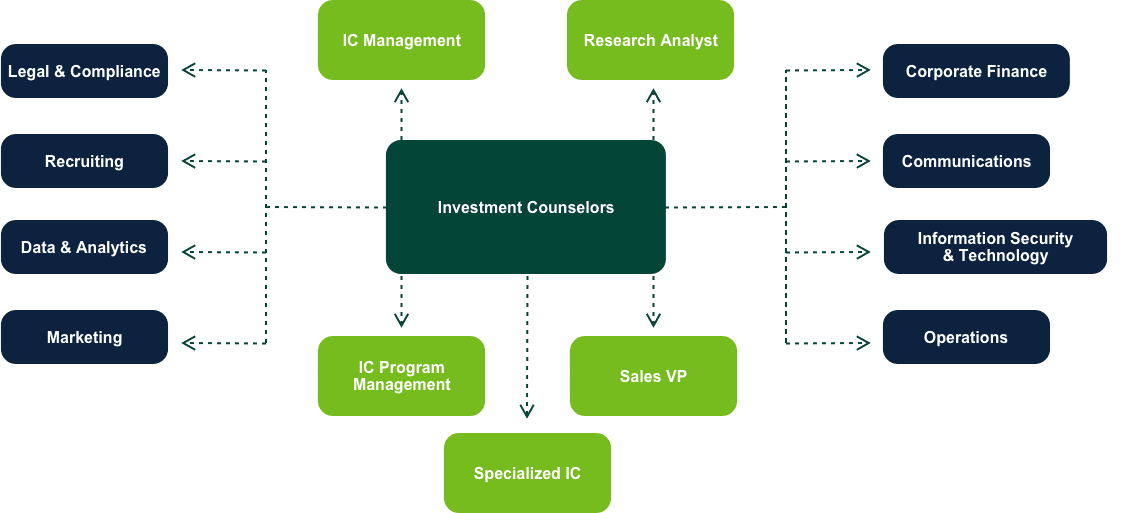 Helping clients is what we do best.
Join Private Client Services.
Our Global Benefits
We provide coverage that helps you stay healthy and live your best life throughout your Fisher career. This includes well-balanced and proactive health care options, and additional benefits that support your health and financial wellness.
Health Care

Quality health care packages offered globally, covering you and your qualified dependents.

Family Support

We support parents and families with Primary Caregiver, Parental Leave, paid time off, flexibility and resources.

Awards & Recognition

We celebrate achievements and drive a strong culture of recognition across the organization.

Time Off

Our annual leave packages and country-specific paid holidays help you balance work and free time.

Retirement Plans

Company contributions to your 401(k) retirement or pension plan, and access to financial planning tools.

Career Growth
& Development

Learning and development programs and resources support you as you build your Fisher career.
Responsibilities
Are you interested in working for an outstanding global investment firm and looking to take the next step in your career in Finance? Want to become an expert in and build a career advising clients on financial markets and investments? Want to focus on forging strong client relationships and providing exceptional client service?
Fisher Investments Ireland is a European subsidiary of Fisher Investments, a privately-held investment management firm that provides professional discretionary portfolio management services for high net worth private clients and some of the world's preeminent institutions. Our organisation has grown significantly over the past decade and we are looking for motivated candidates with finance backgrounds to join our team as Investment Counsellors to help us better the financial industry in Italy as we continue our expansion in Europe.
The Opportunity:
The Investment Counsellor (IC) role is focused on managing relationships with high-net-worth clients in Italy from our office in Dublin. Your understand our clients' needs and educate them on the reasoning behind portfolio changes is crucial to your success in this role in maintaining long-lasting relationships. You will report to your Team Manager who will aid in your professional development.
The Day-to-Day:
Build long standing relationships with our clients, ensuring they always receive exceptional service

Manage a book of high-net-worth relationships with approximately €100-150 million in assets

Be the conduit between our clients, our Investment Policy Committee, our research and trading departments, and several service teams

Proactively update clients on portfolio changes, financial markets, our current market strategy and investment philosophy

Gain advanced finance and capital markets education through our training program
Qualifications:
2+ years exposure to private clients within the banking /wealth management industry

A sound knowledge of financial concepts, markets, current events and the market

Native Italian and native or fluent English language skills (Proficiency in other European languages is beneficial)

Connect with and educate a variety of audiences

Maintain a positive personality and empathise with clients in good times and bad

A Bachelor's Degree, Master Degree or CFA is beneficial

IMC or CISI level 4 is beneficial
Why Fisher Investments Ireland:
The global Fisher organisation distinguishes itself by putting clients first, providing unmatched service, and taking a personalised approach to investing. You can feel confident knowing that Fisher Investments and Fisher Investments Ireland align with our clients' priorities by using a simple and transparent fee structure and recognised European custodians.
It's the people that make the Fisher purpose possible, and to help our employees meet their long-term goals, we offer an array of benefits, including:
100% paid premiums for our top-tier supplemental healthcare and dental plans for employees and their qualified dependents

28 days annual leave, with the ability to purchase up to 3 additional days per year, plus up to 11 paid holidays

Enhanced maternity pay package with 26 weeks' top up to full base pay for eligible employees

A retirement pension plan, featuring a 9% company pension contribution of your base pay and an additional company match of up to 5% of base pay

Monthly gym subsidy of up to €50 per month

Employee Assistance Program and other emotional wellbeing services

A collaborative working environment that practices ongoing training, educational support and employee appreciation events
We take great pride in our inclusive culture. We value the different perspectives and unique skills you bring to the team – it makes us all better. Success at Fisher Investments is motivated by results, a collaborative mindset and a commitment to accomplishing great things – so if you are ready to do that, we are ready for you! Apply today to be a part of a team environment where you make a difference in the lives of people by bettering the investment universe.
FISHER INVESTMENTS IRELAND IS AN EQUAL OPPORTUNITY EMPLOYER
See the area you'll be working in.
Get an idea of what your daily routine can be like.
Explore Now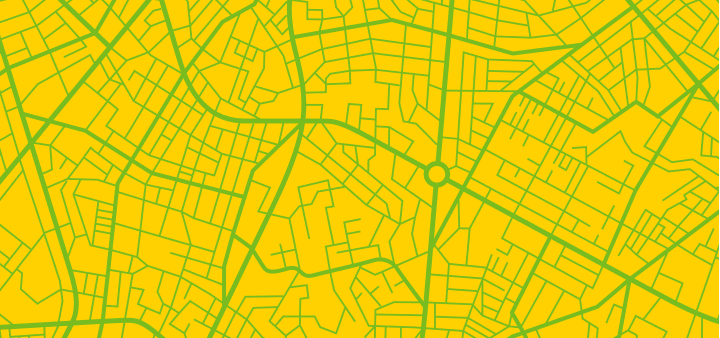 How to Find the Confidence and Skills to Make Your Mark on the Industry (Interview)
"I've always admired Fisher as a company that I would like to work for someday. I was already familiar with the services that Fisher offered and valued the communication with counselors, the process and education, and felt it would be the best fit for me as a planner."
Read More about finding your confidence and skills to make your mark on the industry
Fisher provides employees the tools necessary to excel at whatever role they are in. Furthermore, we have consistent access to career counseling and mentoring, and an open door to senior management, making it possible to explore all kinds of career paths within the company.

Kelsey S.

Investment Counselor

Fisher Investments
At Fisher, I enjoy being part of a growing firm that provides a service that strives to put our clients' interests first.

Patrick L.

Investment Counselor

Fisher Investments
I was amazed by the firm's extensive Investment Counselor training program and the collaborative environment where everyone shares their best ideas. Managers have regular check-ins with their team members and want to talk about your career trajectory.

Kelly R.

Investment Counselor

Fisher Investments
I really enjoy helping clients solve complex financial problems and feel comfortable about their retirement. It's very rewarding to help clients navigate markets and achieve their financial goals.

John T.

Investment Counselor

Fisher Investments
I started at Fisher as an Italian Investment Counselor in London and really enjoyed having a positive impact on our clients and helping them with their financial goals. Today, as an IC Training Program Manager based in our Dublin office, I enjoy having an impact on the group when it comes to knowledge, quality and our growth.

Giorgio A.

Investment Counselor Training Program Manager

Fisher Investments Ireland
Join our
Talent Community
Stay connected by signing up to receive Fisher business updates and career information.
Join Our Talent Community
Sign Up
for Job Alerts
Let us know what positions you're interested in, and we'll send you job notifications.