Explore Your Career Options at Fisher and Find Your Fit
When it comes to building your career, it can be difficult to find the right fit. At Fisher, our recruiting team helps you explore your options and find the best role based on your skills, interests, and our firm needs. We welcome candidates from all college majors, backgrounds, and experience levels. We have over 5,000 employees globally and hundreds of unique roles. At Fisher, we cultivate an inclusive workplace where employees can thrive as they grow rewarding, long-term careers.



"At Fisher, there is no defined career path and you can choose your own adventure.
You'll gain a lot of different skills and experiences, and there are a lot of
options for where you can go next at the firm."
Adrian M.
Senior Recruiter, Fisher Investments
The Fisher Difference & Specialized Roles

At Fisher, we're different than many others in our industry. For example, our Service, Operations, Analytics and Sales roles are specialized. This enables us to provide outstanding service that helps support our clients' investment goals and objectives. Fisher is a fiduciary and fee-only investment adviser, serving private clients, small- to mid-sized US businesses and institutional investors globally. Our Fisher difference starts with a single-minded focus on always doing what is best for our clients.

Variety of Career Opportunities
From Service jobs that directly support our clients, to Human Capital positions that engage with our global employees, our specialized roles help you focus on what you do best. In addition to our Service, Operations, Analytics, and Sales positions, we have other opportunities across our Fisher organization. These career areas include Communications, Data Analytics, Executive, Finance, Human Capital, Information Security, Information Technology, Legal Affairs, Marketing, and Portfolio Management.
Supporting Your Unique Journey
When you join Fisher, the position you start in is only the beginning of an exciting long-term Fisher career journey. We empower you to grow you skills, explore opportunities across the organization, and reach your potential. Whatever your career goals, you'll be supported as you develop a personalized roadmap to achieve them.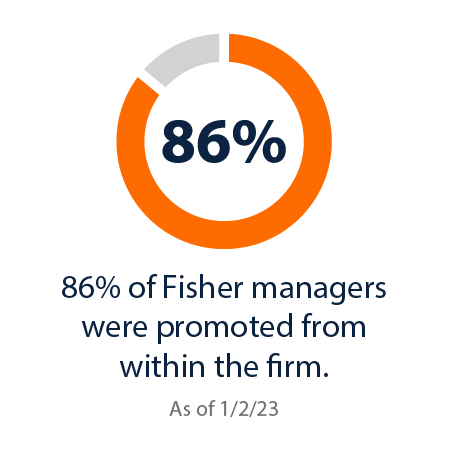 We offer two key programs supporting employee growth and success: Career Development, and Learning and Development. While career development helps you navigate your unique Fisher career journey, our learning and development programs and resources help you grow so you can develop in your current role and build the potential to take on more responsibilities in the future.
Here are some highlights of the programs and resources we offer our employees:
Online Learning Center
Customized Training Programs
Internal Career Center
Global Job Shadow Program
Internal Talent Advising
Global Career Counseling
Bridge Programs & Info Sessions
Join Fisher's Talent Community!

By signing up for our Talent Community, you can receive business updates and career information.
Join our
Talent Community
Stay connected by signing up to receive Fisher business updates and career information.
Join Our Talent Community
Sign Up
for Job Alerts
Let us know what positions you're interested in, and we'll send you job notifications.