Celebrating our Fisher Creek Campus in Camas, WA
When you work at Fisher Investments' campus in Camas, Washington you soon realize why outdoor meetings are popular on sunny days! Our expansive Fisher Creek campus incorporates the area's natural surroundings. Along a mile of paved walking paths, employees encounter wetlands, wooded areas, and wildlife – including deer, ducks, rabbits, and birds.
The scenic Fisher Creek campus is our largest corporate Fisher Investments office, with more than 1,700 employees. Each of the three five-story office buildings has an open office arrangement, and large windows offer grand views of the surrounding park-like setting. Employees can also enjoy an outdoor seating area – a great place for lunchbreaks.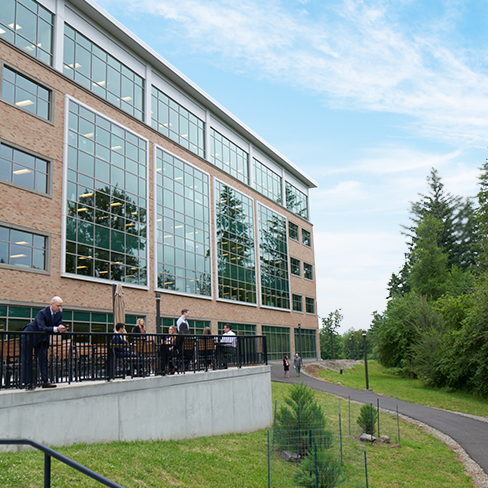 Fisher Creek Campus Vision
Facing their firm's rapid growth in the early 2000s, Ken and Sherri Fisher had a desire to expand their offices beyond California. They looked north toward Southwest Washington for a new corporate office location and after opening a temporary office in Vancouver, Washington in 2007, eventually found an ideal location. Camas, Washington offered a favorable cost of living, with no state income tax, good schools, and close proximity to the Portland International Airport.
The vision for this new Fisher Investments office was an expansive campus in a natural setting and within a few years, that vision came true. After purchasing the 223-acre Camas, Washington property in 2008, the Fishers challenged contractors and engineers to make the new campus as environmentally friendly as possible.
Environmentally Friendly Focus
The property included more than 90 acres of wetlands and during construction not only were the wetlands preserved, they were enhanced. More than 400 trees, 2,000 shrubs, and 5,000 wetland plants were added to the site. Landscaping incorporated native plants as much as possible and bioswales, a purifying landscape element, were used to treat storm water runoff.
The first wave of Fisher employees moved into the first Fisher Creek campus building in September 2011. Three more buildings were added over the years, with our fourth building opening in fall 2020, making room for additional employees. October 2021 marked the campus' 10-year celebration.
A Great Place to Live and Work
Camas, Washington is a small town near a big city, and a great place to live and work. It borders Vancouver, Washington and is across the Columbia River from Portland, Oregon. The town of Camas has a population of under 28,000 and is known for its family-friendly atmosphere, with a quaint, historic downtown area and great school district. Outdoor enthusiasts enjoy the area's nature parks and hiking trails as well as Lacamas Lake.
From Camas, it's only a two-hour drive to the ski slopes of Mt. Hood or the popular beaches in Oregon, including Cannon Beach, making weekend getaways a fun adventure. Having the Portland International Airport just 13 miles away provides convenience for those traveling within the US or abroad, for work or vacation.
At Fisher, Love Where You Work!

At Fisher Investments, we believe it's important to love where you work! Most Fisher employees can choose the office they work from, depending on their role and business needs. In addition to our Fisher Creek campus in Camas, Washington, Fisher Investments has U.S. offices in San Mateo, California; Plano, Texas; and Tampa, Florida.
Join our
Talent Community
Stay connected by signing up to receive Fisher business updates and career information.
Join Our Talent Community
Sign Up
for Job Alerts
Let us know what positions you're interested in, and we'll send you job notifications.